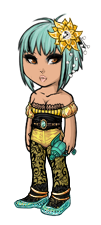 Thug Gun!
by
Taurus

1
0 comments
Style File was created as a place for
all
of Subeta's fashionistas to upload, share, and adore avatars.
Help to support the site by upgrading to a Premium account & get our CW shop discount & other perks on Style File. Raise your maximum uploads from seven to
unlimited
!
2 months = $2.50
6 months = $6.00
One year = $10.00
Go here to upgrade:
Preferences

Style File Rules
Style File Staff
Cleopatra
by Coraline





40

2 comments


Snake Whisperer
by KarenP





37

4 comments


Stone
by Coraline





35

6 comments


charged
by maeow





34

2 comments


I scream for icecream
by Couture





31

4 comments